A laptop for a child who really needs it! This is the story behind KeepCalling Laptop Donation Program.
As a national charity program initiated by KeepCalling in 2011, KC Laptop Donation addresses children of low financial resources, yet with great potential. This simple action is meant to add to their educational opportunities. We are well aware that every journey starts with a ticket. The ticket we offer is a laptop… Several laptops have been donated to charity so far.
First five laptops went to…

The first laptop was offered to a local young man. The second to the college student Emanuel Wagner in Beius, guided through by a non profit organization called The Good Samaritan. The third laptop and an Internet subscription were offered to Valentina Ene in Valea Calugareasca, Romania, who was referred by Jeremy Wustner-Brown, a Peace Corps volunteer. Valentina's ambition was the key to all these. Her ambition to know, despite her life full of difficulties.
The story went on with the fourth and fifth laptop. In November 2011 the 16 year old Lucia Mitru from Sibiu received the fourth one plus some how-to information on programs running on it. Lively and very ambitious, she spent most of her time studying, playing chess and guitar. The fifth went to the Petrus family in Beius, Bihor.
The program has just started to spread its wings. More to come, more to give.
The sixth laptop donated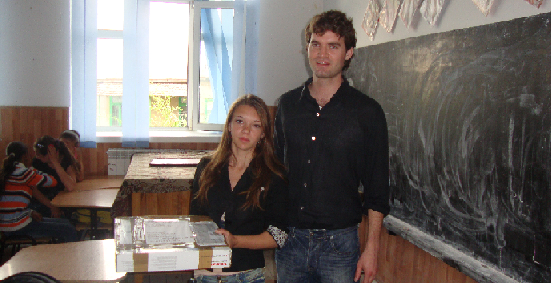 In April 2012, the sixth laptop was sent to Luncavita, Tulcea county and it will make Tudorita Carjan's life easier from now on. She was referred for this project by the local Peace Corps volunteer in Luncavita, Jeremy Faulkner. She is known as a creative and active girl, and he was very impressed by both her exceptional school results and the fact that her family faces financial difficulties all the time.
"Tudorita is a very talented student, yet a poor child. KeepCalling's Laptop Donation program suits her needs perfectly and works like a gift for the deserving child she is" says Jeremy.
The laptop was sent together with a two year fully paid Internet subscription. Tudorita is very thankful for receiving a gift she would otherwise not even dreamt about. Since she is a freshman in highschool, owning a laptop will help her make future plans. She is dreaming of getting accepted into University and developing her journalistic skills.
The seventh laptop donated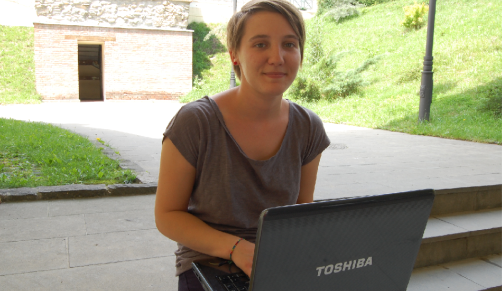 Our Laptop Donation Program carries on from month to month!
In June 2012, KeepCalling donated its 7th laptop to Ioana Surdu, a teenager from Sibiu, studying to be a registered nurse. Ioana was happy to receive the laptop together with a one year Internet subscription.
KeepCalling donated not only a computer, but also a chance to knowledge, to education and thus to new social possibilities.
The eighth laptop went to an Olympic student!
In June 2012, KeepCalling donated the 8th laptop. Doris Opritoiu, a 17 year old student at Betania High School in Sibiu was the one who got the present.
Doris is a Chinese language Olympic which emphasizes her unexpected enthusiasm, curiosity and remarkable ambition to overcome unfamiliarity and other difficulties. Learning Chinese, and especially at her age, is quite a rare thing in Romania, since Chinese is not even taught in public schools.
Plus, her academic background is spotless and promising. She has just received a scholarship in China thanks to her excellent results, and now our encouragement.
Doris's story is not an entire land of milk and honey. Her father recently passed away from a long suffering illness. Now Doris, together with her three brothers and sisters, are raised by her mother alone.
KeepCalling decided to donate her a laptop in order to support her efforts and fresh dreams within a demanding society.
Two more laptops for two deserving students!

In October 2012, two more laptops were donated by KeepCalling. Two more students benefited from the "educational support" the company turned into a social responsibility principle. The 8th grader Alina Olariu and the highschool student Ionut Pacurar received a laptop and the necessary internet connection each. KeepCalling's gifts were meant as an investment in their future, mainly their computational skills, increasing their learning experience.
Both do well in school, have brilliant minds and the right ambition. Something else they have in common is they are confronted with many social challenges on daily basis. Their potential is hampered by the current social and economic situation. Due to their difficulties related to family income mainly, computers are expensive items they cannot afford.
The way the Peace Corps volunteer Nick Lillo would describe these kids' need for support is: "Many of my students come from broken homes with little to no money to spend on luxury items such as laptops, which poses a real disadvantage for bright students who are held back by a lack of familiarity with the increasingly important digital world."
Nick Lillo tutored Ionut in English and is still supportive. To him Ionut is "a very bright young man. His English is very good, which is mostly a product of his diligent studying of a dog-eared old "Teach Yourself English" book he bought himself. I spent most of the past year tutoring Ionuț for free in his home, and see the serious potential he has in both English and other subjects."
When asked about Alina, Mr. Jessica Jagmin Brookins, the Peace Corps volunteer who recommended the young girl for the Laptop Donation program, says: "Alina is a bright girl that works incredibly hard both in and out of the classroom. She adds to class discussions and is eager to help her classmates and teachers. She even served as her class monitor last year. Alina is always respectful and well-behaved. She is a joy to have in class and consistently turns in high quality work."
We appreciate their young efforts to be responsible and curios, and we kindly thank the Peace Corps volunteers for their personal involvement to connect KeepCalling and these remarkable children.